Hello guys,
I have been experiencing UrBackup for about 3 months and at first it seemed like an excellent solution, however, it has not met me as expected due to abnormal behavior in the automatic execution of backups in the medium term.
After setting up the server, clients and backup windows, everything works fine for a while (except for the bug I reported in this topic: Inconsistent backup status after prefilescript implementation), but after a few weeks, the automatic backup of some (random) clients stops working, forcing me to manually perform the tasks.
I could see that backup jobs suffer small consecutive delays each day, until they reach the limit of the backup window, when it stops running automatically, as shown in the following image: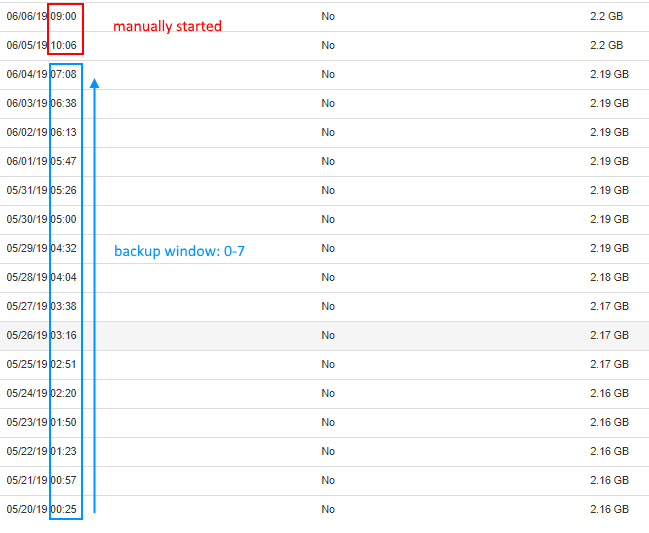 Server and client time and date settings are correct and have no inconsistencies.
Has anyone experienced this and knows what might be happening? I've already redoed the server from scratch, but the behavior persists.
If I can not overcome this problem, unfortunately, I will have to abandon UrBackup because it does not show a reliable solution. Every day I need to check the backups and manually run those that did not run automatically, which does not make sense.
Clarifying: There are no errors and no record of backup jobs that fail on logs. Nothing happens and backups are not even started.
Environment overview:
UrBackup Version: 2.3.8
Server: CentOS 7.6 / Kernel 5.1.3
Storage filesystem: Btrfs
Clients: Windows and Linux
Any suggestions on how to solve this serious problem?
Is it possible to perform backup tasks from the command line? So I could disable the backup window in the settings and schedule the tasks through crontab, until the bug is resolved.
Thank you for any help.
André