Hi Lads,
How are you?
I'm just testing Urbackup application from last few weeks on group of over 100 Clients.
And from last 2x weeks I start creating backup groups to separate users.
I did set up new group with including .PST file formats (.pst) and without :
C:\Windows;C:\Program Files;C:\Program Files (x86);C:\ProgramData;.mp3;.avi;.mkv;.mp4;.mpg;.mpeg.exe;.jpg;.jpeg;
See below: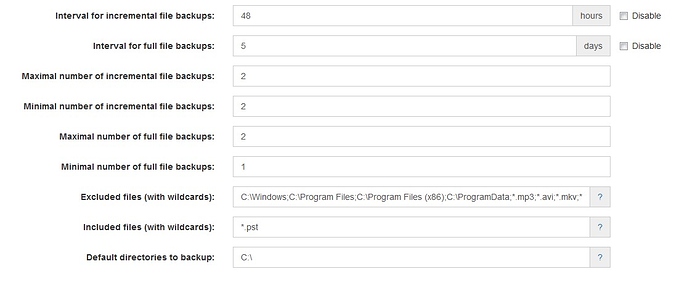 And I got one issue. Backup on Clients assign to that group is only backing up PST files without any different files format (Office etc.)
What i did wrong ?
Main Backup for standard user without PCS fully working. Backing up all needed files without: "Excluded files (with wildcards)" as on picture.
Just need to know if I need to update those changes to Clients or I did mistake somewhere.
I set up 4x different groups and only my main one is fully working (without PST files)
Thanks for help.