Are there any reporting capabilities?
in the means of?
You can configure the Server to send you emails on Failure/success of the backups.
(you can define on what error level he sends and if a mail should be triggered on success or Failure of a backup.)
You can download Statistics in xls, csv and PDF format.
besides that the underlying OS should offer Standard Monitoring capabilities like SNMP traps and so on but thats not really UrBackup related.
Thank you for your response… although for some reason the MAIL piece of UrBackup is not working in our environment.
I've tried everything… user name with password, NO user name and NO password, SSL/TSL etc and I'm still not able to connect the UrBackup server to our email server.
I have no problems with any of our other applications utilizing the mail server, typically with NO user name and NO password.
TJP
Sorry for the late response.
Our Urbackup server uses no user and an empty pass aswell and it works fine (Server Version 2.0.38)
But after configuring that you have to configure the recipient in the "Logs" Menu at the bottom of the site.
(see the screenshot)
Did you do that?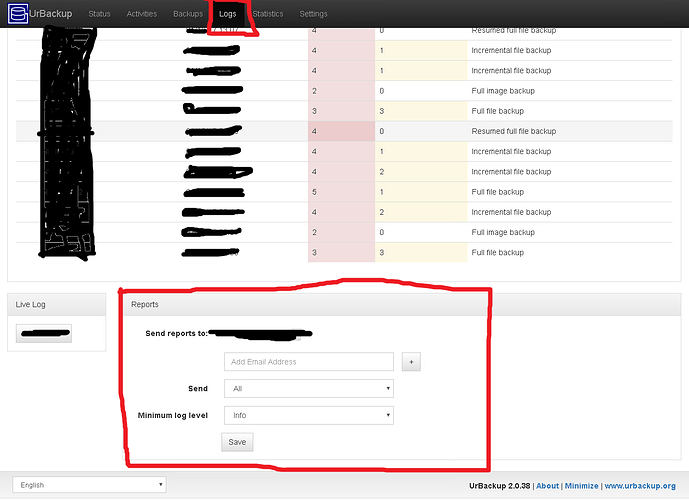 This isn't my issue and yes I have it setup in the logs to send to myself.
I am having issues when configuring the connection to the mail server.
Errors listed in my original blog.
-TJP