Using UrBackup Server 2.4.12 on Windows Server 2008 (for this week) with Client 2.4.10 on Windows 7 (for another day or so).
Watching the live log for the Nightly clean-up, I spotted something I've wondered about before. The Debug message refers to Max file backups but the value is from the Min field.
|02/24/20 02:54  |DEBUG  |Client with id=22 has 1 full file backups max=1|
|---|---|---|
|02/24/20 02:54  |DEBUG  |Client with id=22 has 4 incremental file backups max=1|
|02/24/20 02:54  |INFO  |Deleting incremental file backup ( id=9600, backuptime=2019-08-24 04:31:04, path=190823-2330 ) from client "NECD-L14" ( id=22 ) ...|
|02/24/20 02:54  |INFO  |Done.|

The Settings for the Group, of which this client is a member, are: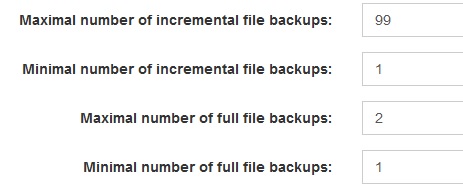 If this pass is deleting backups because clean-up thinks the Maximal number is 1, then that is an error which should be fixed. If it is seeking additional space and really means there are more than the Minimal number so OK to delete, that is just a typo of Max for Min and can be deferred as a cosmetic fix. I would like to see the reason for the deletion on the Info Deleting incremental file backup line, even if just a shorthand note like "Rule 4: Deleting…" with the meanings listed in the admin manual.