I started replicating our backup server, which is using zfs storage and the incremental-forever style backups, to another server using the zrepl tool. Since zrepl creates its own snapshots to to incremental replication, when urbackup deletes a backup orphan datasets are left behind. I was going to write a script to clean up these deleted datasets, but I can't wrap my head around what I'm seeing. Below screenshot is the output of zfs list -t filesystem,snapshot -r -o names,clones,origin tank/[...]/PC. The leftmost column indicates which backups are shown in the webinterface and wether they are full or incremental backups.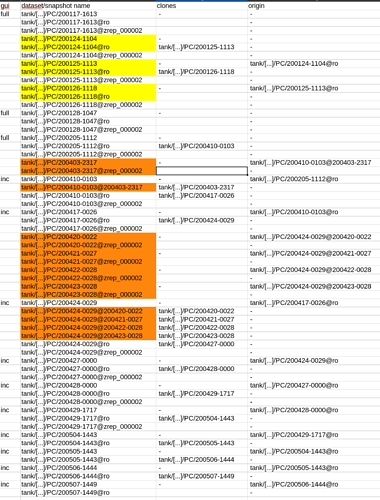 Questions:
The cells marked in yellow belong to an incremental backup chain that contains no backups that are shown in the gui. I don't understand why they still exist. Since the

@ro

snapshot is still there, I think the server hasn't even tried deleting them. According to my retention settings they should have been deleted for a long time. Are these safe to destroy?
The cells marked in orange show backups that were deleted by the server after the zrep snapshot was created. How can I reliably determine wether it is safe to delete these volumes (including the zrep snapshot) so the deletion can be propagated to the mirror system? Is the absence of an

@ro

snapshot a safe indicator? Or do I need to lookup from the sqlite database?
Can someone explain to me how the snapshot promotion during the cleanup works? I don't understand how a snapshot of a newer dataset (like 200410-0103@200403-2317) can be the parent of an older dataset (like 200403-2317).
Thanks for any help.
@Jeeves can you help maybe? You mentioned a long time ago that thanks to zfs send/receive we can replicate easily, but I can't figure out how to actually use it in production without ending up with a full pool.