Hello,
I have UrBackup running in a NetGear NAS, which is armel architecture based (armv7l). It is running with BTRFS storage and it is working very fine from a few weeks ago. I installed UrBackup from sources into this NAS. The OS is a Debian 8 fork from NetGear.
I receive this error in two of my clients when do incremental backup:


I have seen this error a few days ago in other of my clients and it was exactly the same, also with a PST file. Then I have do some tests and finally I found that when I do a complete bakcup of this client the problem dissapears and subsecuent incremental backups works again.
But now it is happening again in other two different computers, so I think I must ask for support.
The clients are running Windows 7 Pro x64 and x86 with CBT client. Anyway I think this is a server issue.
I think the problem is in some place whit the snapshoting system. I have seen that snapshots for those failed backups are not deleted: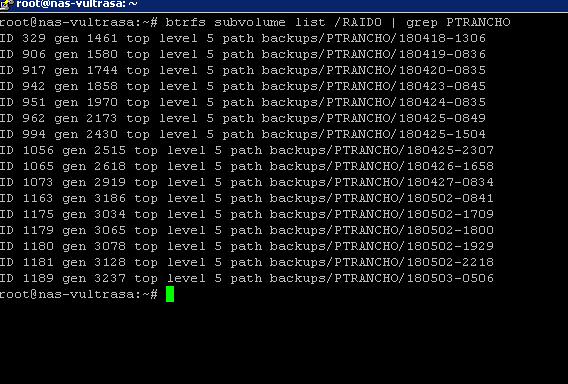 I think if I do a complete backup of this client It probably fix the error, but I think probably it will happen again.
¿Any idea?
Thank you so much.